We have chosen to grow, starting from the roots
Does that seem obvious? Yet, for some it is not.
Some choose just to show their lovely foliage.
We prefer you to know that ours flowers healthily and on a solid foundation.
We are not a conventional agency. .
We do not follow or imitate styles, fashions and fads, self-referential languages.
We go straight to the point with all our interlocutors, with clarity and transparency.

24 YEARS OF BALANCE
Our growth has been constant.
Even in recent years, characterised by considerable change, our trend has remained positive. Because we have always remained faithful to our principles.
One of which is balance.
Balance when choosing, managing and in relations. Balance in risks. So that those working with us and for us get a good night's sleep. Especially our clients.
We do not like crazytivity – losing balance with no target: an activity where presumed creativity lies in the action and not the result.
Instead, we love creativity.
Losing balance strategically just for the time needed to see original, surprising solutions..
THE DEPARTMENTS

We do not outsource anything: ideas are living creatures to be cultivated in the agency, following each step in their development. Allow us to boast: deriving from nothing and being here, after more than twenty years, talking about us and our agency and comparing ourselves with Italian and international companies, makes us very proud.
ACCOUNTING  
|

  CREATIVE  

|

  GRAPHIC DESIGN  

| 

DIGITAL MEDIA  

|

  DEVELOPING  

|

  EVENTS  

|

PRESS OFFICE  

|

  PHOTO

OUR HEADQUARTERS
Two steps away from the sea, but immersed in greenery.
Just a few minutes away from the centre, but its noise is a long way away.
This location chose us and we feel
almost as though we were at home. If we have the pleasure to have you as our guests, you will understand what we mean.
Come and visit us. You will be very welcome.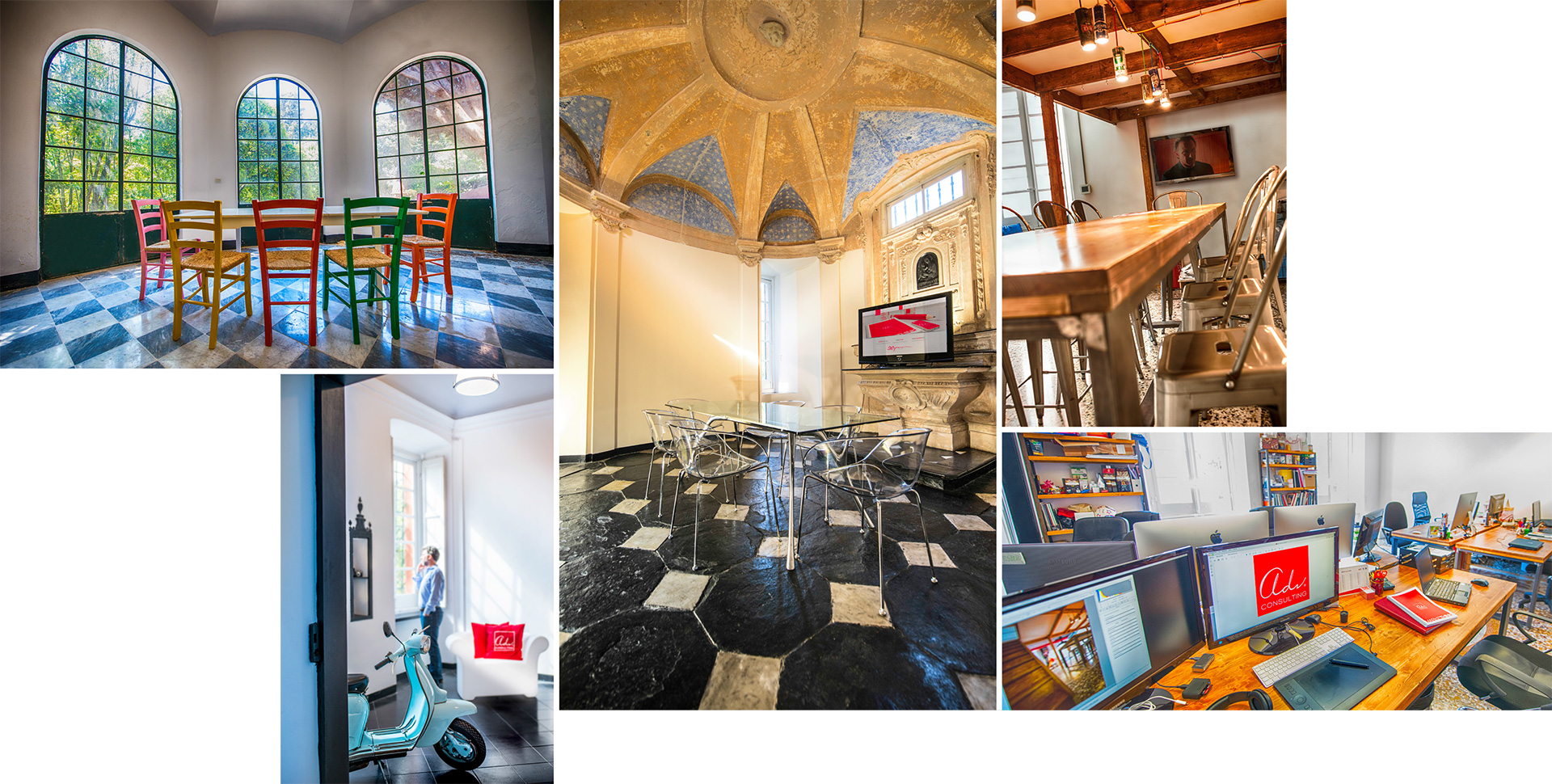 There are no problems, just solutions.
That is our mission.
We work for this every day.
We do all in our power to make things simple, even when they seem complicated.
We like substance, even when we let our imagination loose.
We concentrate on results, even when talking about emotions.
We have a clear, specific purpose, a North star that we never lose sight of: customer satisfaction.
Customer satisfaction is not a complicated equation: if you have a client (and have worked hard to achieve this), and want to hold on to them (and you have to work hard to do so), you have to work hard and well.
Generating added value for the brand.

GEOGRAPHICAL DISTRIBUTION OF OUR CLIENTS
The Genoese – as we know – are sailors and have always sailed towards new horizons.
Starting from Genoa, Adv Consulting began operating in Italy and then extended its operations to 4 continents to offer comprehensive communication services, from Ireland to Croatia, from the United States to Germany, going through Switzerland, Australia and China.
With a natural vocation for communication, in Adv Consulting we speak 3 languages (Italian, English and French).


DISTRIBUZIONE GEOGRAFICA DEI NOSTRI CLIENTI
I genovesi – si sa – sono un popolo di navigatori e da sempre viaggiano verso nuovi orizzonti.
Partendo da Genova, Adv Consulting ha iniziato ad operare in Italia per poi estendersi in 4 continenti fino ad offrire oggi servizi di comunicazione a 360° dall'Irlanda alla Croazia, dagli Stati Uniti alla Germania passando per la Svizzera, l'Australia e la Cina.
Con una naturale vocazione alla comunicazione, in Adv Consulting si parlano correntemente 3 lingue (italiano, inglese, francese).


HAVE YOU GOT A PROJECT IN MIND?
Don't wait. We are at your disposal!